Environmental Reports by Lotsearch
Understand the environmental risks of your property and surrounding areas with our Lotsearch Environmental reports. Gain historical information about your site so you can plan and gain a thorough overview of your property.
What are Lotsearch Environmental Reports?
InfoTrackGO has partnered with Lotsearch to provide you with a range of environmental reports to help you understand and identify any risks to a site or property.
Our range of environmental reports are currently available for NSW and ACT, and will help you to determine potential contamination and bushfire risks, allowing you to plan and prepare accordingly.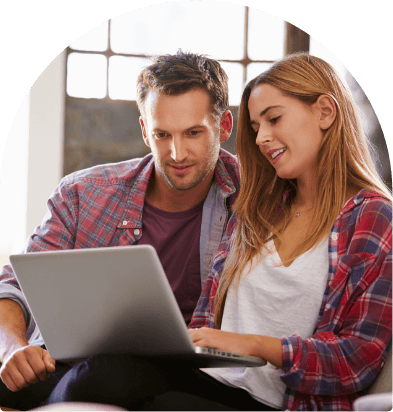 Where do we source our information from?
InfoTrackGO obtains information from trusted and reliable bodies. Our Environmental Reports by Lotsearch are sourced from the Environmental Protection Authority (EPA) public registers and website.
Lotsearch Environmental Reports are frequently used by environmental consultants, lawyers, valuers and property professionals to identify contaminated land, natural hazards and planning constraints.
What reports does Lotsearch offer?
Lotsearch reports available for land and properties located in New South Wales (NSW).  
The 'Bushfire Risk Search' in NSW offers a fast and efficient way for obtaining information about the risk of bushfire to the site of interest and the surrounding area. The report summarises publicly available information which is presented on maps for ease of interpretation.
The Contaminated Land Search offers a fast and efficient way for obtaining basic information extracted from the Environmental Protection Authority (EPA) public registers/website. Reports offer a set of data to help understand potential contamination hazards on or near the site of interest.
Contaminated Land Screening report
A comprehensive Contaminated Land Screening Report includes additional data from historical sources and a bespoke assessment of the potential for contamination to affect the site.
Lotsearch report available for land and properties located in Queensland (QLD).
Environmental Risk Search
The Environmental Risk Search offers an efficient way of obtaining basic information extracted from various datasets for properties in Queensland. It includes records from the Queensland Department of Environment and Science's environmental authorities register, PFAS investigation and management sites, and waste management and liquid fuel facilities. Searches offer data and information on potential contamination hazards on or near the property.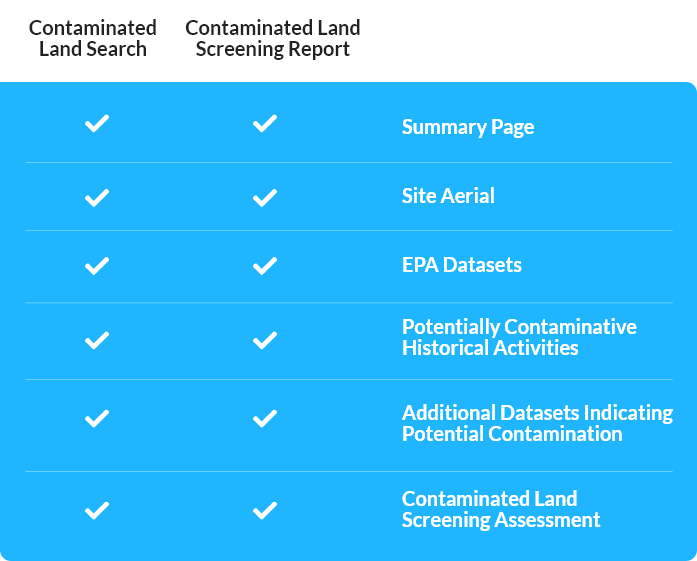 View our comparison chart below to determine which contamination chart is best suited for you:
Summary Page: This shows a quick summary of the information contained in the product.
Site Aerial: This is a high-quality aerial/satellite photograph of the site with the lot boundary clearly highlighted.
EPA Datasets: These include declared contaminated sites and other contaminative activities managed and regulated by the relevant Environmental Protection Authority.
Potentially Contaminative Historical Activities: These include historical business activities that had the potential to cause contamination but where the site may not have been previously assessed or investigated.
Additional Datasets Indicating Potential Contamination: These are other government or proprietary datasets (in addition to the above) that contain information about sites that are known to carry a risk of contamination.
Contaminated Land Screening Assessment: This is a preliminary risk assessment made by an environmental consultant, using the information provided in the report.